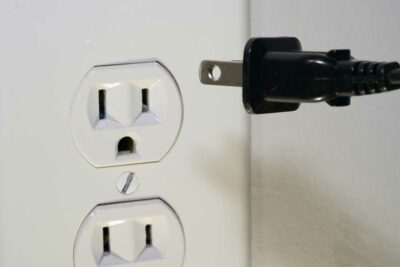 Whether you are working from home on a computer, preparing dinner for your family, or just turning on a light, electricity makes all of our lives much easier. While we expect electrical services to always be available, there are some cautions and safety tips to keep in mind.
According to the National Fire Protection Association (NFPA), here are some things to keep in mind:
When you need to have electrical work done in your home, hire a qualified electrician.
If you are buying or remodeling your home, have it inspected by a qualified inspector to identify any issues that need to be resolved.
Make it a practice to only plug in one heat-producing appliance into a receptacle at time. This includes coffee maker, toaster, space heater, and others.
Never use extension cords or plug strips with major appliances, such as refrigerators, dryers, washers, microwaves, and stoves. Major appliances should be plugged directly into an outlet.
Be sure to use the appropriate wattage of light bulbs for each fixture.  The recommended wattage is typically printed on a sticker for each light fixture.
Never allow electrical cords to run across doorways or under carpet or rugs. Remember, extension cords are intended for temporary use. If you need a long-term solution, hire a qualified electrician to add outlets in the needed areas.
Ground-Fault Circuit Interrupters (GFCIs) reduce the risk of shock by shutting off an electrical circuit when it becomes a shock hazard. All outlets in the kitchen, bathroom, garage and basement should be outfitted with GFCIs. Outdoor outlets should also be GFCI protected.
For more tips about keeping your home safe with electricity, visit the NFPA website.